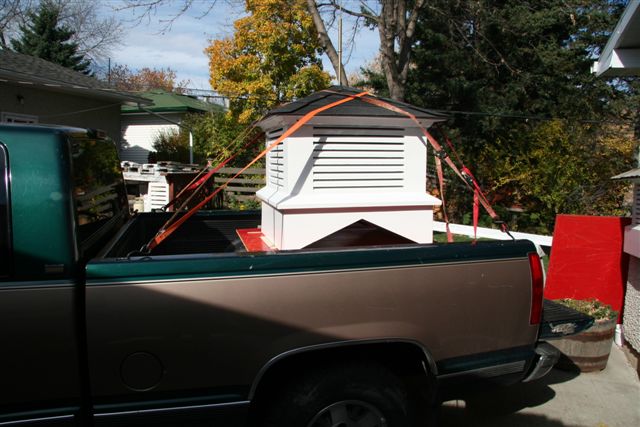 #167 Estate.
This is a 5/12 slope cupola.
Design and Price your handcrafted Calgary Cupola using the Calgary Cupola Designer
Every handcrafted Calgary Cupola order is custom designed and built to meet your unique building needs. You are the Customer. Here...... the Customer is King.
How do we get going .....Advise me on the slope and the size you are thinking of. If you absolutely cannot measure the slope, send me a digital photo of the end of the roof as close to being square with the roof as possible. I can make measurements from the photo. Also if you can and want, share your project with me - email a digital photo of the project or plan, or describe what you are building, so that I have an good idea on what you are doing and out to accomplish. I may have e a suggestion or two to save your grief.
Since this is a custom project, decide on how far you want me to go in finishing the cupola: To paint or not to paint. To shingle or not to shingle. I can four-coat spray paint the cupola at my shop, or you can struggle with the brush at your end. I can match the asphalt shingling here in Calgary, or you can do the job at your end. Your choices.
The most popular, the three sizes of Garage Cupolas (Large, Standard, Small) and the Garden Shed Cupola have been sent to the US by US Postal Service parcel post, and in Canada by Canada Post parcel post and Greyhound Express. For USA Customers, I have found that a customs clearance fee is included in what has been paid Canada Post here, and therefore have not heard of a Customs charge at your end. I am equally not aware of Canadian or US taxes on your purchase.
For the Super Estate and Estate Cupola, a business delivery address with loading dock is preferred. Alternatively, the cupola can be sent to a trucking depot for your pick up. In the USA, we have found home delivery (with a truck having a hydraulic tailgate) is a $100 US premium from the depot. Yes, the local delivery premium is shocking! We have been asking for, and including your SS# on all our USA invoices on theses sizes. The trucking company asks for this.
The shipping prices below in the Cupola Designer are an estimate rate to the USA and Canada. I am hoping not to loose money on shipping and make every effort to keep on top of these estimates.
I have provided sizes and weights below in the designer to assist conceptualizing sizes of the cupolas.
Canadians note: There is no Provincial Sales Tax on your shipments from me - Alberta is tax free. However, I must add the 5 % General Sales Tax to all Canadian shipping, cupola, and weathervane prices.