Genealogy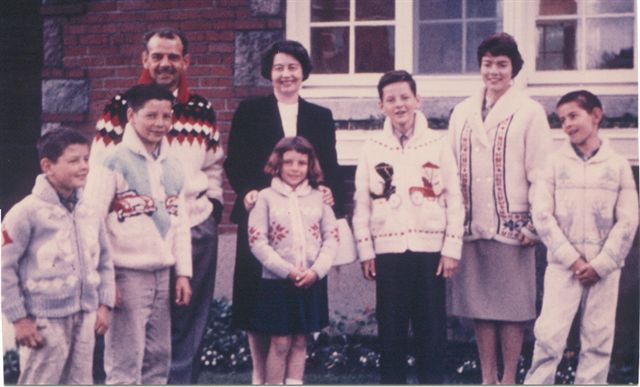 L to R - my immediate family in late May 1961 -
Mark (me 1951) John (1946) Harry (dad 1917 - 2010) Marjorie (mom 1920- 2012) Joyce (1952) Tom (1947) Dianne (1944 - 1994) David (1949)
we had attended a cousin's funeral in Montreal and were all set to return home
I am updating this page, the weekend of my 55th birthday - 14 October 2006. For the past 3 1/2 years, I have been working on my genealogy - my family tree. My interest is understanding and documenting the family tree of my descendants from the time they set foot in North America. On my mom's Mulholland side we are looking at 1775 and on my dad's Soehner side 1854.
On my Soehner side: we have documentation from 1854 when my great great grandfather Henry Soehner migrated to Ontario from Duhern, Germany. The book Germans to America states Heinrich Soehner, farmer, Baden, Obermuellrich, ship Helvetia, from Havre to New York, arrival April 7, 1854. His future wife wife Elizabeth Wolfhard migrated 1/2 year later - Elisabeth Wohlfahrt, Baden, Obermuellrich, ship Sylphide, Bremen to New York, arrival December 19, 1854, destination Buffalo. They married in Kitchener, Ontario (then called Berlin) on 25 October 1855 and saw the arrival of their first son Philip two weeks later on 12 November 1855.
I think Henry had three brothers, who also migrated - bothers Frederick, William & Charles. We know from reading early obituaries, that Henry and Charles were brothers. However, of the other two, I do not know as obituaries have not been found. Now if they were not brothers, they must have been close cousins, as all four ended up in a very small community called Flora, now called Floradale, Ontario. In the 1850's, the area of Floradale was being cleared of the bush and developed into farmland.
Henry the oldest of the four (born 1830) remained in Floradale, Ontario as a wagon maker, and had 7 surviving kids. This is the line where I come from. All of the Soehners in Elmira, can trace back to Henry (1830 - 1900) and his wife Elizabeth Wolfhard (1829 - 1915). Many Soehners in the Kitchener / Waterloo / Waterloo Region/ Ontario trace back to this couple. The woodworking factory in Floradale was built circa 1860 by Henry, and still stands, somewhat original. The factory or shop was renamed to Bowman Wood Products in the 1950's, and is now owned by a Metzger who I have met, and makes kitchen cabinets. Henry's obituary states he is a brother to Charles (see below).
Henry Soehner's children are: Phillip, Margaret, Elizabeth, Frederick, John, Louis

I descend from Frederick Soehner (1865 - 1927) and Catharine Ziegler (1862 - 1946)

Frederick Soehner's children are: Peter, Elizabeth, Henry, Ella, Minne, Emma, Jack, Bill

I descend from Henry Soehner (1894 - 1984) and Bertha Hoelscher (1896 - 1992)

Henry Soehner's children are: Harry, Pauline, Wallace, Joyce, Connie, Janice
Fred the second oldest of the four (born 1839), died 10 February 1881 at 42 years. The 1871 census says he was a wheelwright, possibly working with Henry, building handcrafted wooden wagons. The Berliner (now Kitchener, Ontario) newspaper reported he married the widowed Katharina Hambrecht on 9 December 1866. We also have a record that the bride was a Catherine Wagner. Frederick may have had a daughter (or sister as he was 15 when she was born?) Catherine Soehner, age 19 who married 19 January 1873 at age 19 to a Robert Schuehle. The marriage register lists Rose Huber as the mother. Three wives names - Go figure! Obviously, more research required.
William the third oldest (born 1844) is listed in the 1871 census as being a cooper (barrel maker). William appears in the 1891census in Waterloo with a family of 7 kids, however by the 1901 census he has died 10 July 1898 in Waterloo (1844 - 1898). I have not located his obituary or grave. Many Soehners in Kitchener / Waterloo / New Hamburg / Stratford / Toronto trace back to William and his wife Catherine Roebsche or Robesher (1846 - 1920).
Charles was the youngest of the four (born 1846 and migrated 1864 from Germany to Canada via New York and the NY canal system). Charles was in Floradale in the 1871 census, then Waterloo in the 1881 census, and then Elkton, Michigan, USA in December 1889 - with 10 of his soon to be expanded to 12 kids! Charles was a farmer and also a wagon maker in Michigan. All of the Michigan Soehners trace back to Charles (1846 - 1923) and his wife Caroline Weismiller from Floradale (1849 - 1928). The Weismiller name is common to many Soehner marriages in this period. His obituary states he is a brother to Charles.
Maiden names in my personal Soehner family tree are Mulholland (my mother), Hoelscher (my grandmother), Zeigler (my great grandmother), Wolfhard (my great great grandmother).
Follow this link to Soehner genealogy photos that have been collected and posted on this website.
On mom's side, we have Mulholland genealogy. Hugh Mulholland with wife whose name we do not know, and the start of what would be a large family (3 kids at this time) migrated from we think Carrickfergus, Antrim, Ireland to the Albany, New York farming area in 1775. In the residual fallout of the American Revolution, Hugh moved most of his family north (9 kids with one remaining - David - for a while in New York then following) to Upper Canada in 1793. They were part of the migration known as later United Empire Loyalists, receiving from the Crown 200 acres of land in Saltfleet Township, in what is now known as Wentworth County, Hamilton, Ontario. This 200 acres was six miles or so SE from current downtown Hamilton, Ontario at the base of the escarpment. A further 800 acres was granted above the escarpment.
We believe Hugh Mulholland's children are: James, Peter, Margaret, David, Hugh, Mary, Nancy, John, George.

I descend from John Mulholland (1782 - 1870) and Marie Jane Griffin (1788 - 1861).

John Mulholland's children are: Joshua, John L, William, Margaret, Elizabeth, Susannah, George B, James, Nancy.

I descend from George B Mulholland (1823 - 1886) and Elizabeth C Buchanan (1833 - 1920).

George B Mulholland's children are: Hugh, William, John, Jane, Maria, Alonza, James, George, Philinda, Smith, Angus.

I descend from William Buchanan Mulholland (1851 - 1924) and Susanna Margaret Keil (1853 - 1938).

William Buchanan Mulholland's children are: Fred, Maria, Bill, John, Charlie, Wallace, Nelson, Erven, Elmer, Robert, Dafoe, Milton, George, Hugh

I descend from George Leonard Mulholland (1894 - 1984) and Margaret Whilhelmina Schwalm (1893 - 1974).

George Leonard Mulholland's children are: Marjorie, Bill, Dot, Ruth, Ross, Beryl

My mom is Marjorie Elizabeth Mulholland (1921 - 2012) married to Harry Soehner. The children are: Dianne, John, Tom, David, Mark (me), Joyce, Douglas
From the above summary, you can see maiden names in my personal Mulholland family tree are Schwalm (my grandmother), Keil (my great grandmother), Buchanan (my great grandmother), Griffin (my great great grandmother). Follow this link to Mulholland genealogy photos that have been collected and posted on this website. Many Mulholland descendants throughout Canada & the USA can trace to Hugh Mulholland.
My maternal grandmother was born Margaret Whilhelmina Schwalm 30 December 1893 Minto Township, Wellington County. Schwalm migration to Ontario appears to be approximately 1850. Her parents were William John Schwalm (1858 - 1939) and Elizabeth Mary (Maria) Schwalm (1861 - 1931). My grandmother's paternal grandparents were John S Schwalm (1837 - 1905) and Margaretha Helbigh (1831 -1874). My grandmother's maternal grandparents were also Schwalms - John Kurt Schwalm (1821 - 1859) and Maria Reit (1824 - 1902). All of these listed Schwalms were buried in a short radius of Mildmay / Clifford, Ontario. However, equal number of Schwalm descendants went to the USA.
I am using Family Tree Maker 2005 and have close to 6000 or so names in my data base - 2000 Soehner side, 4000 Mulholland side. I can send you my gedcom file; in return you can help build the data base by sending me yours.
There are 15 or so, computer literate cousins working on this project, and an equal number who are actively researching or answering inquiries. Thank you to everyone who helps. My initial object was to understand how I was related to the Soehners listed in the modest Elmira phone book. I am close to meeting that objective. Now the goal is to identify all my relations in North America!
Mark Soehner
Mark@CalgaryCupola.com
403-630-0968
Calgary, Alberta, Canada